FishFlop™ Interactive Vibrating Fish Toy
Want To Treat Your Cat?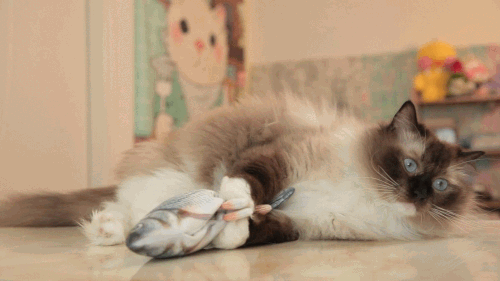 First Realistic Fish Toy With Smart Motion Sensor and Built-in Rechargeable Battery
🐾 The FIRST Fish Kicker That Moves And Flops On Its Own!
🐾 Motion Detecting Motor Inside - Kicks Just Like a REAL Fish When Touched. Stops Itself When Left Alone!
🐾 Length: 11 inches (30 cm).

🐾 Refillable Catnip Pouch - Cat Safe Velcro Pocket is Easy to Refill with Catnip Over and Over Again!
🐾 Your order comes with USB charger, FREE catnip, motor with built-in battery and the fish.
🐾 Built-in rechargeable battery: FishFlop™ comes with a USB charger, and a built in battery that lasts a few hours after a full charge. This would be enough time to entertain your cat and relieve the stress throughout the day.
🐾 Tough enough to handle the fiercest hunters: FishFlop™ is made of high-quality material, so you don't have to worry about the safety and durability of the toy being scratched or bitten by the cat.
🐾 Did you know cats get depressed too?  Cats actually show signs of being clinically depressed, in a way that affects their physical health and quality of life.Cats become depressed through a lack of stimulation.
🐾 Boredom is a trigger of depression
for cats and humans alike! Increased periods of playtime is recommended by vets to avoid depression in cats.  FishFlop™ can help you solve all these problems, and give you an active, lovely and healthy cat. FishFlop™ is an interactive toy fish with three modes of vibration to keep your cat engaged. 
GET YOURS TODAY WHILE IT'S ON SALE!
 Extra 10% Off If Buy 2 (Code:2PCS) With FREE SHIPPING Today Only
(offer valid while stocks last)